The annual re:invent prediction show for 2022! How do your hosts do with their crazy predictions and hopes. This year we got some friends to help us crowdsource these ideas across social media!
Read More
Blog
Jonathan, Justin and Ryan check out the keynotes live stream, but if you missed it check out the recordings on our Youtube channel. Thanks for tuning into the streams and check out our recap show next week. #reinvent2022
Read More u00bb
Check out The Cloud Pods Livestream events of re:Invent 2022! Sure to be an action-packed week full of announcements, learning and, of course content! Check out our prediction show dropping on Black Friday!
Read More u00bb
Blog
The Cloud Pod is 100 episodes strong. Here's what we've learned so far (plus we'll give you some clues as to what to look for in the next 100 episodes).
Read More u00bb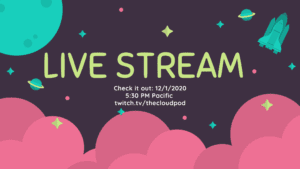 Blog
Check out our Live Stream on 12/1/2020 at 5:30 PM Pacific time. https://www.twitch.tv/thecloudpod
Read More u00bb
Blog
Jonathan, Peter and I will all be attending Re:Invent 2019! We are looking forward to meeting all of you who have listened over the last
Read More u00bb
Blog
My Co-Hosts and I have hit the 25 episode mark! We have been thrilled with the response to our show and I wanted to document this early period in the show's history!
Read More u00bb